X-Alpine
68 MI 27'600 ft
The main Swiss Alps trail, X-Alpine is definitely alpine and will become a real challenge for experienced ultratrailers.
Records:
Men: J.P. Tschumi (2018) : 15h57
Women: E. Lecomte (2017): 20h34
The route joins the 3 valleys of the river Dranse, forming a symbolic link between these three geographic regions. Two main uphills will harden the beggining , passing by the top of Catogne (2598m), with a breathtaking view and by the Orny hut (2826m), by a glacier. La Fouly is roughly in the middle of the route and from there a new adventure starts. Leading the runners by the famous Col du Grand St Bernard, through several villages and pastures and also up the last 1200m ascent to La Chaux, called "the wall" by runners.
Start
Verbier (Place de l'Ermitage), Saturday 4th July 2020,
1:00 and 4:00 am.
You can download the GPX track with a right click on this link and "record the target of the link on..."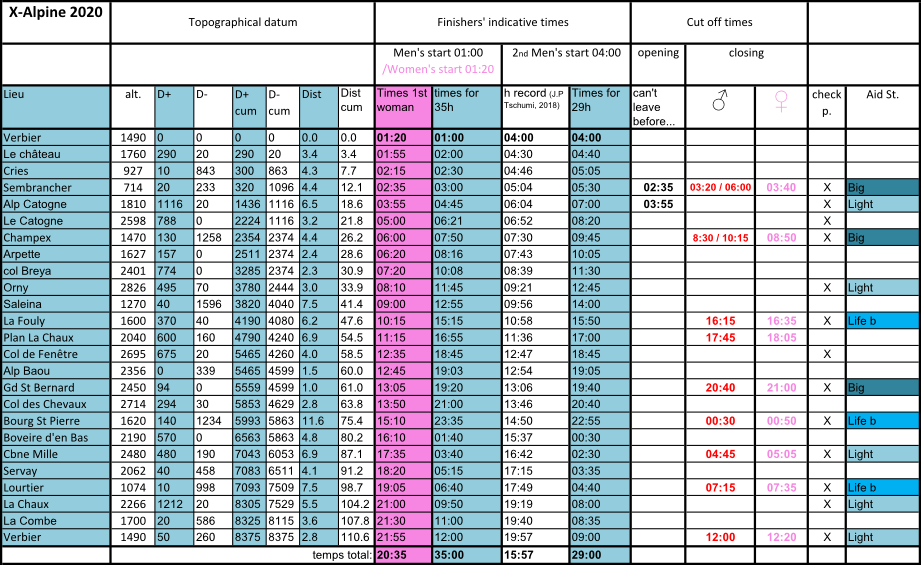 ITRA points
Every finisher of the X-Alpine will gain 5 ITRA qualification points, usefull for X-Alpine or for other races.
4 ITRA points are compulsary to register to X-Alpine.
Choose your starting time
Women only start: 1:20 am
Every woman will have to start at 01:00am, so that they won't arrive too late in Verbier and will be cheared as deserved.
Men only starts: 01.00 am and 04:00 am
Choose your starting time correctly to avoid being stopped at the first aid stations or being stopped by the cut off times.
First start: Saturday 01:00 am. Runners claiming to finish in 30 hours or more.
Second start: Saturday 04:00 am. Runners claiming to finish in less than 30 hours.
First check points openings:
Sembrancher (km 11.6): 02:35 a.m.
Alpage de Catogne (km 17.5): 03:55 a.m.
Watch out, any runners who cover Verbier-Sembrancher in less than 1 hour 35 will be stopped at the first check point if they start at 1:00 am.
Dropped bag:

A personal bag can be left on the starting line in Verbier. You'll find it back in Bourg St Pierre and it will be taken back to the Post office in Verbier. The repatriation delay depends on logistic organisation and can't be garantied before the end of the race.
You can also leave a deposit bag in Verbier that will stay there till your arrival.
Numbers withdrawal and briefing
Runners for the X-Alpine have to take their bib numbers on Friday 3rd of July in Le Châble (Espace St Marc) between 2:00 and 20:30 p.m with your identity card. Take then the opportunity to visit our Trail exhibition with several running brands who propose special discount on this occasion.
The briefing for the whole races is from 17h45 to 18h15.
Fees, conditions and subscriptions

To be at least 20 years old at the time you participate to the 111MI X-Alpine.
Limited to 550 runners.
CHF 167.- 1st October - 30st June 2020