Where to see the runners
BY CAR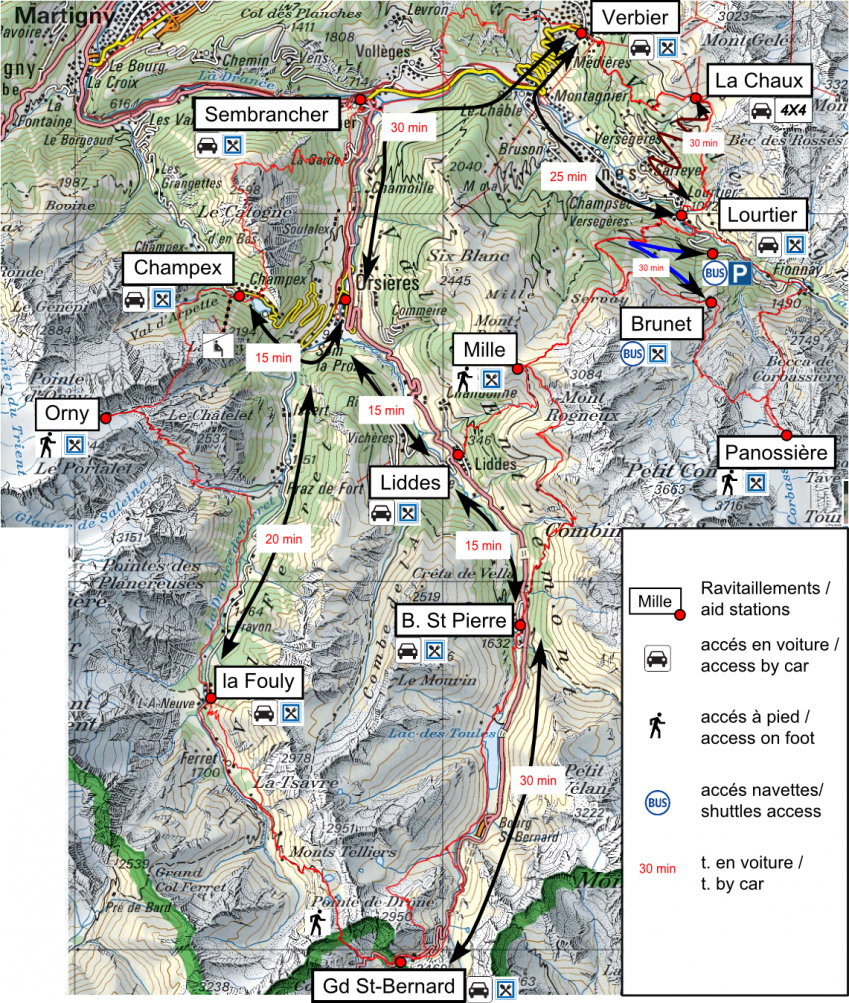 L'ensemble des sites mentionnés sur cette carte est facilement accessible en voiture, hormis la cabane Brunet (bus navette depuis la Barmass, en dessus de Lourtier).
ON FOOT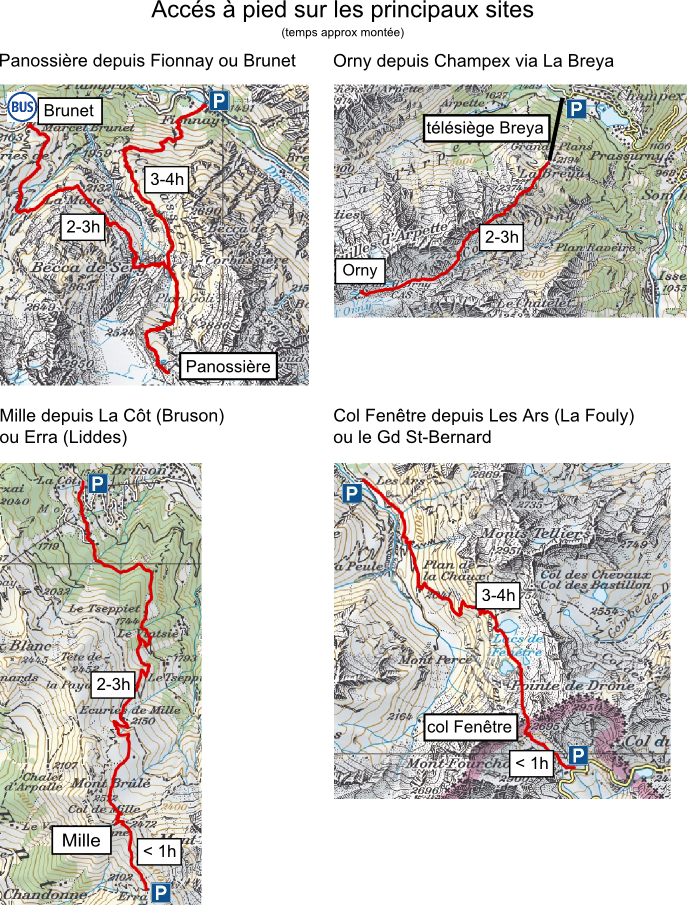 VISITS AND THINGS TO DO

Champex
In summer, there is something for everyone to choose from with a large range of leisure and sports activities – excursions on the lake in a rowing or pedal boat; idling along a bisse (waterway) or more athletic hikes, fishing, etc. And an enchanting visit to the Alpine botanical garden and an introduction to the artillery fort in the bowels of the earth shouldn't be missed at any price!
La Fouly
A stop over on the Tour du Mont Blanc located two thirds of the way through the route, La Fouly offers a wide choice of hikes, ranging from an educational path for children entitled "Charlotte the Marmot" to the A Neuve hut via the route through the pastures. A treetop canopy walk is also an activity that is appreciated by littlies and adults alike.
Gd-St-Bernard
​After visiting the famous dogs in their kennels, visit the museum, located opposite the hospice. Inside the hospice, the church's splendour comes as a big surprise. Visit the nearby Treasure Chamber,where a number of beautiful sacred objects belonging to the Grand-Saint-Bernard congregation are exhibited.

Bourg-St-Pierre
The final village on the road to the Italian border, Bourg-St-Pierre has been visited by thousands of pilgrims and various armies – including those led by Julius Caesar and Napoleon Bonaparte. You will find a number of vestiges of days gone by, including one of the oldest bell-towers in the canton.
​Do not miss the visit of the alpine garden and the Valsorey mill.
Barrage de Mauvoisin (Lourtier)
To find out more about its history, take the Sentier du Barrage starting from Mauvoisin Hotel. This will lead you to the top of the dam via an ancient 392 m long gallery, and with both text and images, explains how the building was constructed. When you reach the top, you will be greeted by a fantastic view over Mauvoisin Lake with its vertiginous waterfalls.

Verbier
Aerial walkway
Brace yourself and jump! There are three courses, three stages and three levels of difficulty. The various courses are made up of a free-fall jump, zip wires that speed towards the horizon and a whole host of different challenges. Thrills and spills are guaranteed !
Leisure Park
18 hole mini-golf, 2 tennis courts, 2 pétanque locations, 1 trampoline and 3 giant trampolines, climbing wall, slides, zipline
All-Terrain scooters
A fun and adrenaline-packed descent ! Enjoy plenty of thrills and spills while hurtling down the slopes on your all-terrain push scooter, complete with brakes and suspension. This sport will delight adventure-seekers both young and old.
Le Châble
Skatepark
A skatepark with a "bowl" and various options, a pumptrack for beginner and advanced mountain biking, a playground and a picnic spot for families are available free of charge. This space is located just two minutes from Le Châble skilifts and station.
Trains des Combins
Discover Verbier and Val de bagnes by train which runs cost free everyday on different routes.
For more information www.verbier.ch or +41 27 775 38 88