Verbier Marathon
43km / 3500 m D+
The 3rd edition of the marathon between Liddes and Verbier.
A first big ascent up to Mille Hut where you will join the other long routes. From here it's a long traverse going down to Brunet before crossing the Avouillons pass to reach the bottom of the Grand Combin, its glacier and the Panossière hut. Crossing the suspension bridge will be the hottest spot of this section. By the end of the race you will still have to face "the wall", the Lourtier - La Chaux uphill in order to be able to run down to Verbier.
Start
Liddes, 4th July 2020, 11:00 a.m. (elite) / 11:15 (2nd group)
You can download the GPS file with a right clik on this link and "copy the target on..."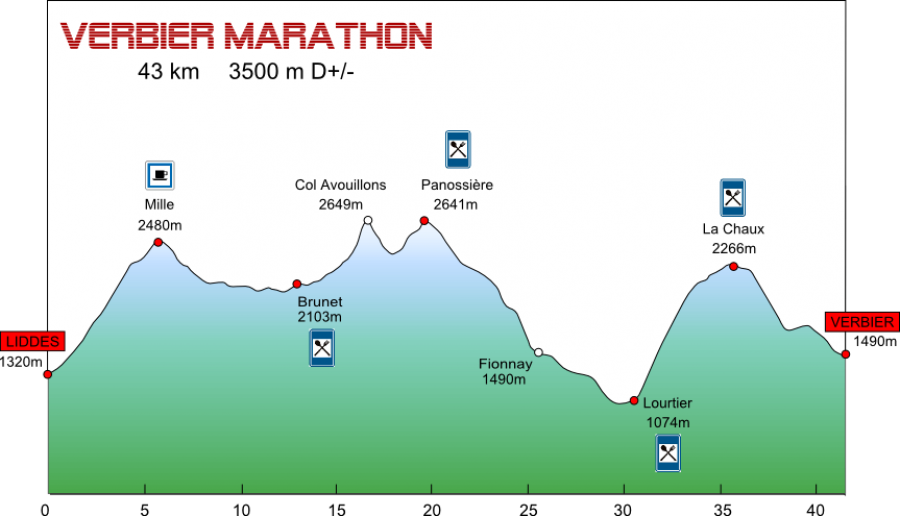 ITRA Points

3 ITRA points, qualifying for several trails.
Cut off times
Sa 16:00 Cabane Brunet
Sa 23:00 Lourtier
Di 05:00 Verbier
No runner can leave the check point after these cut off times.
Dropped bag
A personal bag can be left on the starting line in Liddes. You'll find it back in the Post office in Verbier.
Numbers withdrawal and briefing
We encourage every runner to take their number on Friday 3rd July in Le Châble (Espace St Marc) from 2:00 to 8:30 p.m with your identity card. So you can visit the trail salon and take the advantage of different running brands who offer special discount for this occasion.
The briefing for all races is from 5:45pm to 6:15pm
You can also take your number on Saturday in Liddes, from 9:00 to 10:30 a.m.
Fees participation conditions and subscriptions
Subscriptions are only possible online from the Trail VSB website.
Max number: 650 participants

To be at least 18 years old at the time you participate
CHF 87.- from 1st October to 30st June 2020